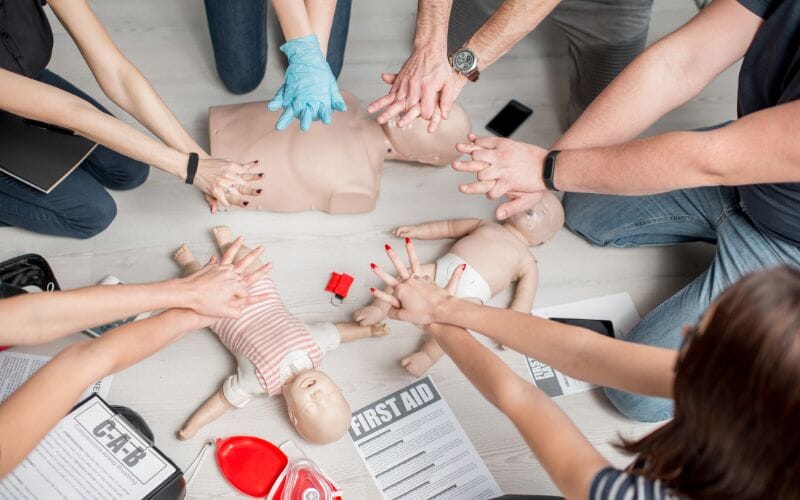 Are you interested in onsite training for your employees, staff, students, or other groups? You will not find a more informative, professional, and engaging CPR group training company elsewhere.
What sets our company apart from other CPR training centers is our firsthand experience. Our team of professional firefighters, paramedics, nurses, and emergency medical technicians respond to 911 emergencies on a daily basis and have all performed CPR in the field. Our skills are of the highest caliber because we have dedicated our lives to serving the public.
Onsite Training at Your Preferred Location
Heart Start CPR offers onsite training to organizations/groups of people that need certification for First Aid CPR, BLS, ACLS, and PALS. If you want to organize a group training session for your employees in order to promote a safe workplace, we are at your service.  Organizing CPR training for employees will help your employees to help other injured employees in case of an emergency. Our expert instructors are AHA certified and have years of experience in training and performing CPR, ACLS, BLS, PALS, first aid, and other life-saving skills when necessary.
Upon booking our Onsite services, our instructors will arrive at your preferred location and time with all the necessary equipment required for the group training session. Our training sessions are very engaging and will help you in future in emergency situations. After the successful completion of the course, you will receive certifications that are issued and certified by American Heart Association(AHA). You can choose a course of your choice and we will be more than happy to arrive at your destination at the time of your convenience.
Onsite Training
Heart Start CPR offers On-Site Training for corporations, small businesses, schools and Healthcare Facilities. On-Site courses are offered using the American Heart Association or American Safety and Health Institution curriculum. On-Site classes offered are CPR/AED, First-Aid, BLS for Healthcare Providers, ACLS and PALS.
Request a Quote
To request a quote for your On-Site Training, please complete the following form:
---
At Heart Start CPR, we offer classroom courses as well as online courses. We also offer onsite CPR training and classes to organizations/teams that need it. All our courses are American Heart Association (AHA) certified and trained by expert professionals. On-site training is ideal for corporate offices, businesses, healthcare facilities, and high schools. We have specially prepared the on-site group training package for small and large groups. We can conduct CPR classes at work for you and your staff. We offer the following courses for onsite training.
CPR/AED
FIRST AID
ACLS
BLS
PALS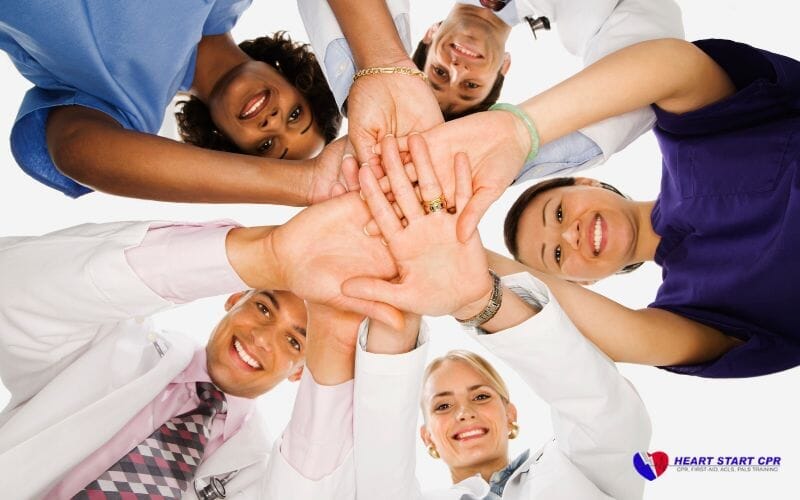 Why Choose Heart Start CPR?
There are many reasons to choose us as your Onsite training partner. Some of the reasons are as follows: 
We provide On-site training. We can also host your team at our location.
We are available 7 days a week.
Our instructors are well experienced and AHA Certified.
We provide certifications at the end of the course.
Tier Pricing system based on the number of attendees. 
Special Discount for a Non-profit Organization.
Frequently Asked Questions
1How many people are needed for Heart Start CPR to train at my location?
The minimum amount for onsite training is 6 people for BLS/CPR/AED and 4 for ACLS or PALS. We do train below the minimum with a flat rate pricing.
2What type of onsite classes does Heart Start CPR offer, and how much are they?
We offer onsite classes for Lay Rescuer CPR/AED, CPR/AED/First-Aid Combo, Skills checks, ACLS and PALS. We have a tier pricing system based on attendees; which means the more people you train, the bigger the discount!
3When can Heart Start CPR train at my location?
Our schedule is very flexible. We can hold classes 7 days a week, email us for availability.
4I am part of a Non-Profit Organization, are there any discounts for us?
Yes! Please fill out the request form with all the details.
5How old does my child need to be in order to be a part of an onsite class?
As long as the child can practice the skills, sit for the duration of the class, and complete the test alone, they are welcome!
6I have 24 or less people interested, but I don't have a location to train. Are there any options for me?
Yes! Depending on our regularly scheduled classes in our main classroom, we can hold your class at our office for no extra charge! Because every student has their own manikin and our instructors are very experienced, our training is much more effective and efficient than traditional CPR training. We specialize in onsite training for large groups and routinely teach classes of 50+ students. We will also keep track of the certifications for your entire group, so that you will never have to worry about your renewal dates.